Upholstery
Weathered Cane weaves together translucent lines, forming a structured nest-like arrangement. The weathered appearance adds a touch of rustic allure, reminiscent of cherished heirlooms that stand the test of time. Feel the artistry of Weathered Cane as it brings a unique and captivating blend of history and contemporary style to your space, creating a cozy and inviting ambiance that feels like home.
Hand dyed leather - Made in NYC
Hides average 40-50 sq. ft. - Thickness 1.2 – 1.6 mm
Made to order, 6-8 week standard lead time
Commercial grade, stain resistant - Easy to clean
Natural milled texture - Soft and supple feel
Commercial Grade and Stain Resistant
Specify Quantity
Let us know what you want to upholster and how many sq. ft. you need. Want to build something custom? Send us drawings or photos to get started.
Approve
We will start by sending you a quote and then create a beautiful leather strike-off in our Brooklyn studio. Once approved, your upholstery leather will be ready to order!
Select Color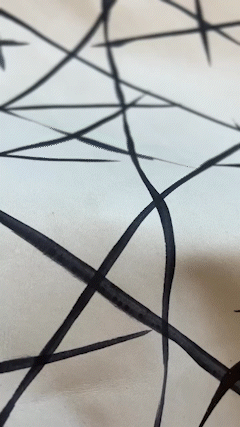 Pick from our standard colors, or create your own! Send us a pick from our Color Library, a Pantone®, paint chip, or mood board. We will find the right match.